Sitting here in my office (and by that I mean the dining room since all rooms in the house are busy anticipating the arrival of our family to celebrate the holidays with us here in Atlanta). Though some times I often wonder - is it us they want to see or just to get away from the freezing temperatures... lol. Anyways, back to my point - here I sit with my headphones on blasting my favorite Christmas album - "A Pentatonix Christmas". Seriously, if you have not listened to it yet you really need to - especially their version of Hallelujah. I cannot believe that Christmas is around the corner.
I'll admit, Christmas is my favorite holiday! And it has nothing to do with presents. For me it is about traditions, family togetherness, slowing down and taking in the small moments. As a Canadian who celebrates Thanksgiving in October, I'll be the first to admit, come November 1st, I am full into Christmas decorating (though I have been known to watch Christmas movies in July). I just love the sparkle, the beauty, and the warmth and kindness that seem so much more abundant at this time of the year. I was always one to love Christmas long before my own kids... but now with two little munchkins of my own... Christmas is that more special.
I mean Christmas parties, gift wrapping, sparkles, decorations, lights, great eats, the music, Christmas vacation and when celebrating in Canada - tobogganing!
BEST TIME OF THE YEAR!

As a little girl, I remember all the traditions and "rules" that existed in our house. One being that my sisters, brother and I were not allowed to come downstairs until my dad was ready for us. Honestly, do you have any idea how crowded it gets with 4 of us at the top of stairs trying to see if Santa had come. My dad had to get the fire started, the coffee on (of course which my mom readied the night prior)... and when we finally got her up and downstairs, the video camera was ready - we were able to run downstairs!!! Pure magic. That is something to this day I continue. Having my kids (and which ever cousins are with us that morning) wait until I am ready... of course I am ready early since I am a kid in a candy store on Christmas morning and actually set my alarm for 4:30am so I am ready when they are - I mean it's Christmas morning!!!!! I'm up with all the lights on, fireplace going, music blasting, coffee made and waiting for the kids to wake up:)
It's interesting to note that after 8 years, my boys have never spent a Christmas morning without at least a few of their cousins... and that after all these years, I have never spent a Christmas away from my mom and my identical twin of the triplet pack. My brother and sister have missed a few, usually a result of them heading for the warmer weather... aka Florida and even Australia.
Below are a few goodies from when I was growing up... and I too remember Christmas' spent with cousins!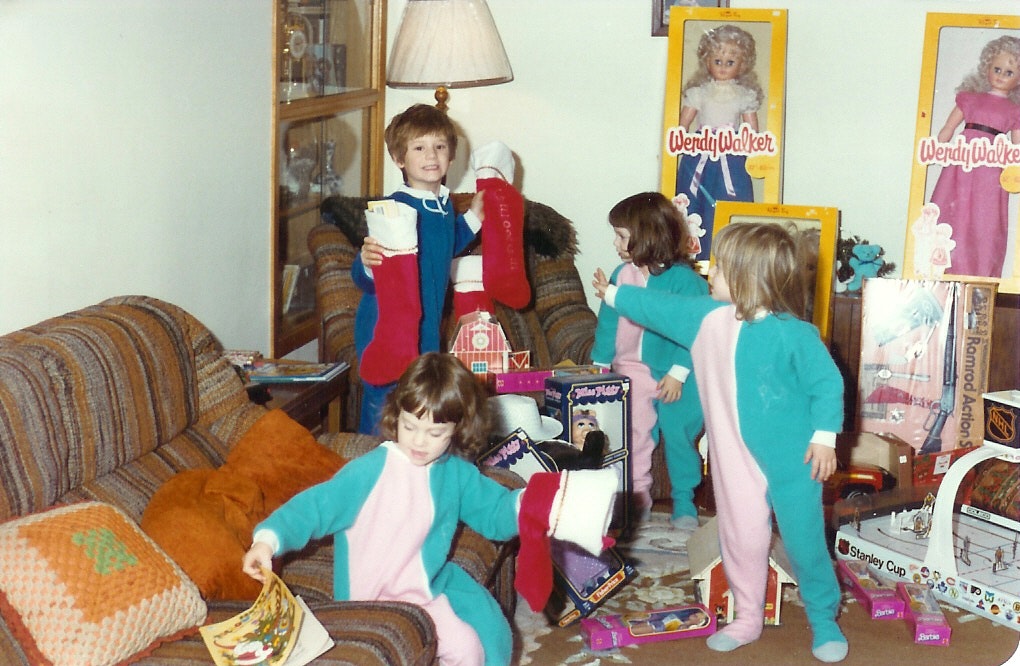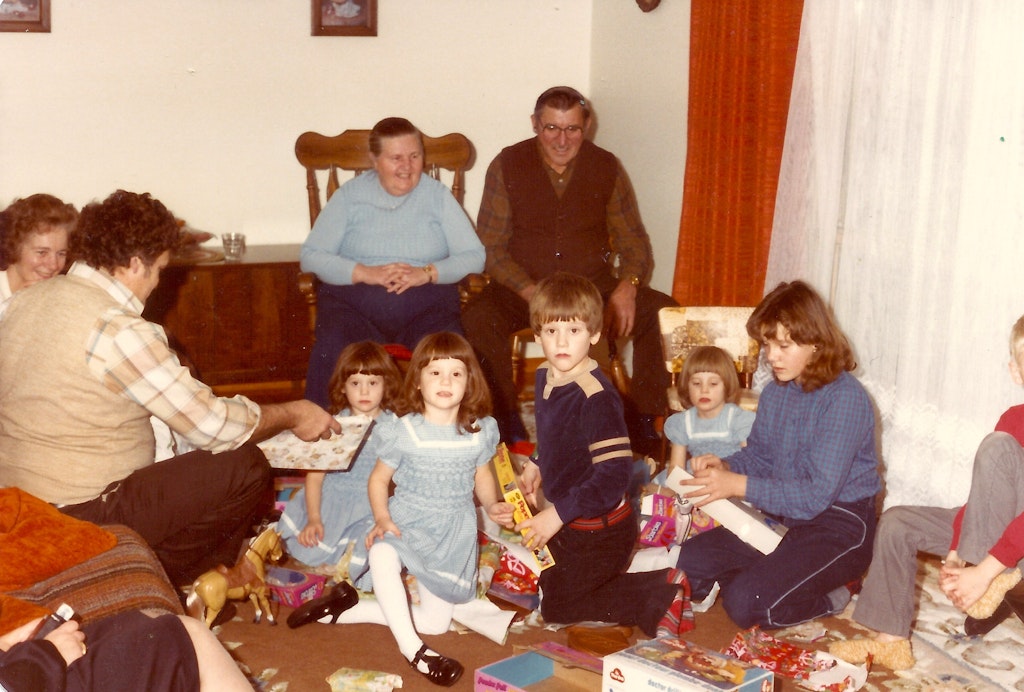 Other traditions of ours include the baking - my mom was of course extremely busy throughout the year with the 4 of us... so I remember at Christmas we were able to pick a recipe and we each had a special baking date with my mom. I always chose "gumdrop" cookies... and a few years back I found that recipe and it brings such joy to see that it is my boys first choice too! It might have something to do with eating the gumdrops, so extras are always needed. This Christmas we are hosting my mom and my twin sister and her family (my brother and other sister will celebrate together in Canada). With hosting, my mom has flown out early to help me prepare, and that includes doing the baking. To see my youngest baking with his Oma are what the little moments are about. Especially when he tells Oma how to bake...lol. Seriously he is 6!!!
My youngest son's birthday is actually December 1 - so for me this makes the season that much more special, as his birthday kickstarts the Christmas season. And he loves it. Every year on his birthday he looks forward to running downstairs to start the advent calendar (lego of course)! This is one of those rare times when my boys do not fight as my youngest loves to have the first day since it's his birthday and my oldest loves having the last day on Christmas Eve... so it works perfectly.
There is also the tradition of decorating the Gingerbread House(s). My sister and my dad started this with her boys about 9 years ago, and I remember being so excited when mine were old enough to join in the fun. We continue this tradition still, and now that the kids are getting bigger we have had to start buying more as 2 years ago when my husband and I were in charge it was insane with that many kids around one house fighting for everything... lol
Another tradition we had when I was growing up, was that after the presents, my dad would slave in the kitchen making a big breakfast (that one and only time he actually cooked). Years back, before kids, my husband and I took this over and although we tweaked it a little (we let the kids have their stockings but have to wait for presents until after breakfast - as I'm starving). It is something I look forward to... as breakfast is definitely one of those meals that we almost always eat individually, so to come to the table together is fun! This year I may actually nominate my brother-in-law to help my husband cook while I drink mimosas with my sister. After breakfast (no, we do not make the kids wait until the dishes are done), we head for presents, coffee (with bailey's of course), pictures and just plain fun! We also open one present at a time - this way the fun lasts into the afternoon. We stay in pj's until closer to supper. Just a great day. We make sure to get a good night sleep so we are well rested to head out for "Boxing Day shopping" (aka the day after Christmas). Not sure why it is called Boxing Day, but I put it comparable to Black Friday - some great deals to be had.
And let's not forget about all the great movies... the list of them is endless. My top three are: White Christmas, It's a Wonderful Life and National Lampoon's Christmas Vacation. For my boys they say - Home Alone 2: Lost in New York. What are yours?
And most importantly - what are some of your most treasured holiday tradtions?