A picture is worth a thousand words…
Yay!!!! It only took 8 months (which I am actually impressed with) to edit and put together my photo album from our recent trip to Australia, but I finally finished it and my book just arrived! WOW… even for me, I'll admit it is awesome! Man, did we have a great trip.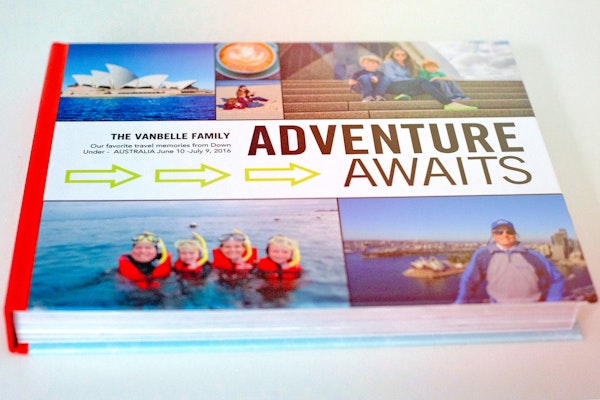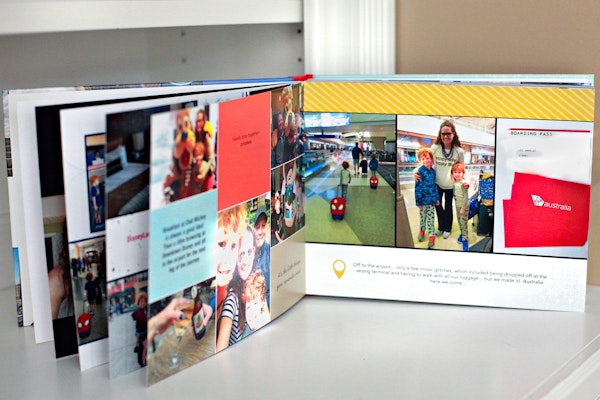 I think what makes it more special than my others, is the story that it tells. I have completed many photo albums, but this is by far my favorite. I think it is because, in going with a 5 yr old and a 7 yr old, I wanted to ensure to capture every little detail of the trip. I mean Australia is a trip of a lifetime and I am not sure how much they will actually remember 5 or 10 years down the road. So before we even left I made a promise to myself to capture the "story" of our trip. This included taking pictures of our plane tickets, the packing process, the over-stuffed suitcases, pictures of the kids journals, pictures of hotel signs, airport experiences… I think you get the idea.
Instead of just taking pictures of those "perfect" moments, I was sure to grab the little, everyday chaos that at the time seemed so little in comparison to the beauty of Australia, yet are some of my fondest memories. They are much more than just a picture - there is a story that goes along with each. Whether it being my husband and I laughing when trying to decide if it was too early for a glass of wine at 10am one morning taking on the kids, to the not-so-perfect-yet-perfect father's day, to our son "wiping" it on his bike on the wet pavement and his shocked expression, to discovering the "best" pancake restaurant and then there was their total excitement to be standing on a moving boat as we sped across the open ocean. Those are the moments to capture!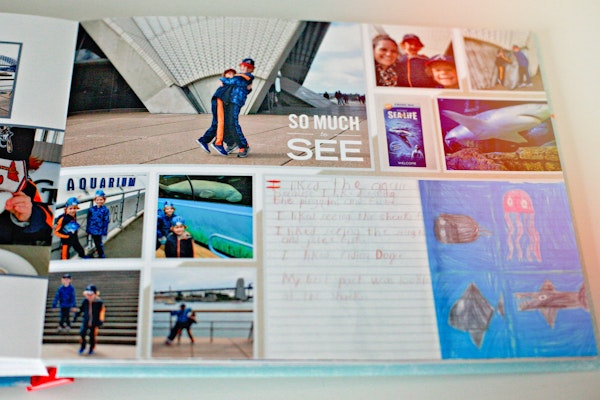 My love for photography sparks from the fact that a photograph can tell a thousand words! They help you to remember a special moment in life and to me that is priceless! When they are left on your phone, the memories can be forgotten, or even worse - accidentally deleted! Therefore I am a big believer in printing my pictures! Of course I take thousands a year (oh, who am I kidding, each month). I cannot possibly print them all. What I do is, at the end of each month, I print the best of the best and then keep the year in a photo box. This way I have pictures readily available whenever needed, such as when the kids come home from school requiring one for a school project. Plus, let's be honest, there is something to be said in holding those actual prints or turning the pages on a physical photobook, versus flipping through on your phone or laptop.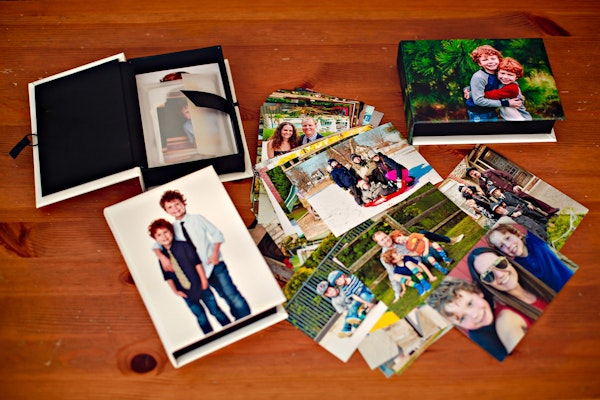 I have discovered that I am not the norm. Pictures are often left to perish on smart phones, leaving you with nothing to hold between your fingertips. What will you have to show your kids when they're your age, now? I just love knowing that I can curl up on the couch with my boys and go through the pictures and stories with them. My boys just love all the memories, especially when they are in them:)
My favorite way to preserving lasting memories is in creating albums. The majority of my albums are through shutterfly (my personal favorite), but I have used others such as MyPublisher and MixBooks. I just love creating lasting albums that showcase the memories and adventures. These albums tell a story of a year or event in our life. Year by year, the kids are growing and changing and I just want to hold onto these memories forever. We are a family, with two rambunctious boys, that definitely loves moving and going on adventures. As more adventures happen, our brains can only hold so many memories and so without the pictures and these albums, we would not be able to remember everything.
Instead of those precious moments captured and left on a hard drive or a phone never to be seen again, create lasting memories. I can honestly say that my boys just love going through the albums, especially when they are in the pictures:)
So when going on your next vacation, or even event or season (i.e halloween, summer, Christmas), don't just take the mandatory photo - think of the little details that would enhance your "story" and create that lasting album - whether old school print or digital! Those silly faces, those moments of uncontrolled giggling, that first cup of coffee on vacation... you get the idea:)
Happy snapping!
XO,
PVB